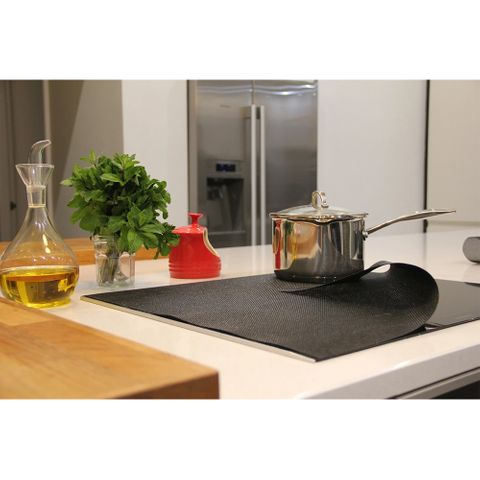 INDUCTION HOB PROTECTOR (4 RING)
Stock Level:
Available for Backorder
Description
Induction Hob Protector Helps keep your hob in pristine condition. Working temperature -40 to 250 Use Protect your induction hob. Create a protective surface between cookware and the hob Prevents unwanted scratches, scuffs & marks. The non-stick, flexible, heat resistant silicone coating helps to reduce movement of pots & pans; in particular heavy cast iron cookware. Heat resistant up to 250ºC The Hob Protector will also help to keep pans in the heating zones and ensures continuous conductivity between the hob and cookware. It will not affect functionality, so long as the correct cookware is used on the correct zone. The Hob Protector can also be left in place when not cooking to safeguard against any other unforeseen damage. Use scissors to trim to size if necessary. Care Easy Cleaning! Shake off any food into a waste bin. Rinse the opposite side to the one used with hot water to remove food residue. Gently wipe with a cloth or sponge to clean any remaining residue. Shake to remove excess water and dry with a kitchen towel or leave in the open air. A mild detergent or soap may be used if needed. Avoid using dishwashers, as this may cause harm to the Induction Hob Protector. Once clean and dry, store rolled or flat. Use on both sides Caution: Do not use scrapers or brushes to clean the silicone mat. Do not fold the silicone mat. Do not expose to naked flames or heating elements. Do not use with Induction Hob Converter Plates. Available Sizes: Half - 295 x 520mm (Two burner hob) Standard - 590 x 520mm (Four burner hob) Large - 780 x 520mm (Five/Six burner hob) **NEW** THIS PRODUCT IS ONLY SUITABLE FOR USE ON INDUCTION HOBS! IF YOUR HOB GLOWS ORANGE/RED IT IS MOST LIKELY NOT AN INDUCTION HOB.
Details
Price Per:

Each

Brand:

BAKE-O-GLIDE

Additional Info:

59cm x 52cm